Submitted by naxingyu on Sat, 05/26/2012 - 08:31
The biennial meeting of the Speech Prosody Special Interest Group (SProSIG) of ISCA (SP2012) was held in Shanghai, China, from 22-25 May 2012. SP is the only recurring international conference focused on prosody as an organizing principle for the social, psychological, linguistic, and technological aspects of spoken language. Speech Prosody 2012, in particular, seeks to discuss the communicative aspects of prosody.
On the day before the conference, a tutorial was given by Dr. Yi Xu and Dr. Santitham Prom-on in Tongji University campus about "Analysis and synthesis of speech prosody based on articulatory dynamics and communicative functions: from concept to practice". The notion of PENTA model was introduced and the usage of PENTATrainer2, an open-source Praat tool distributed on the SP2012 website, was demonstrated. It turns out that the some of their researches are quite relevant to mine and the lecture helped a lot understanding their original motivations.
Each day began with a keynote speech, including Prof. Rüdiger Hoffmann from TU Dresden in German giving "Analysis-by-Synthesis in Prosody Research", Prof. Yoshinori Sagisaka from Waseda University in Japan giving "Modeling prosody variations for communicative speech and the second language towards trans- disciplinary scientific understanding", Prof. Jianhua Tao from Chinese Academy of Sciences in China giving "Hierarchical Prosody Modeling and Generation" and Prof. Jackson Gandour from Purdue University in United States giving "Neural specializations for pitch in tonal languages". On the last day, before the closing ceremony, Prof. Qiuwu Ma from Tongji University in China presented "Bidirectional Tone Sandhi in Tianjin Dialect: Problem and Analysis" in the campus.
My presentation was at the poster session on the 1st day. The research focused on Mandarin, so not many people came to my board. Fortunately, some researches with the same interests as mine, whom I wanted to discuss with, read my poster and gave some very constructive suggestions. It was a good opportunity to know there are people from other fields who are interested in my research and to talk to them at a conference as specified as SP. The conference this year focused mainly on quantitatively phonetic analysis of rhythm/prominence perception and L2 learning from aspects of multiple disciplines, so in the rest of the time I learned about people's researches from my aspect and found many interesting projects.
As it was the first time that SP was held in a tonal-language-speaking country (twice in America, twice in Europe, once in Japan), two satellite meetings were arranged before and after SP, including PCC2012 (http://www.pcc2012tongji.com/) in Shanghai and TAL2012 (http://www.tal2012.org/) in Nanjing. At the reception, the organizers invited a Chinese band playing joyful music using traditional Chinese instruments during the meals. At the closing ceremony in Tongji University campus, the organizers showed a wonderful video reviewing the whole process of SP2012, and three cities gave impressive bid presentations for SP2014, including Poznan, Dublin and Paris. Five students were granted Best Student Paper award, including one first prize. After the closing ceremony and banquet, we were transferred to the bund of Pujiang for a river tour on a ship. The night view of river sides was enjoyable.
For me, SP2012 was a wonderful experience, not only for making new friends, but also for having a chance to discuss and to talk with the guys that I only recognized from papers' bios.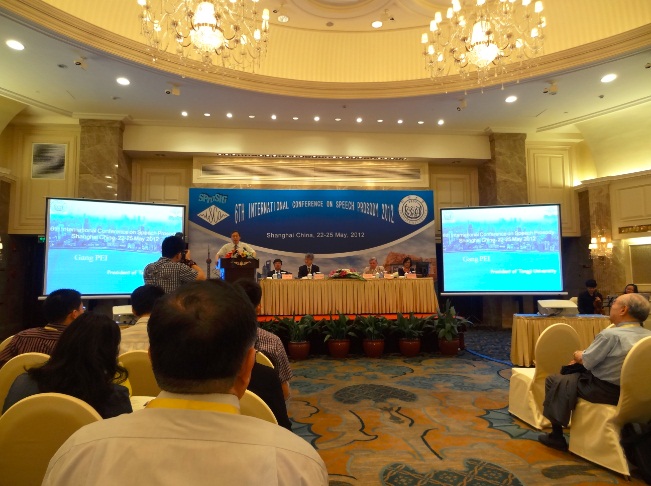 Opening ceremony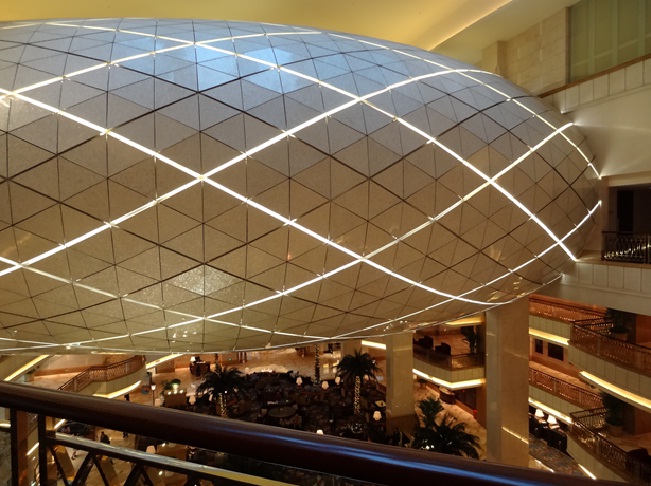 View of the conference room from outside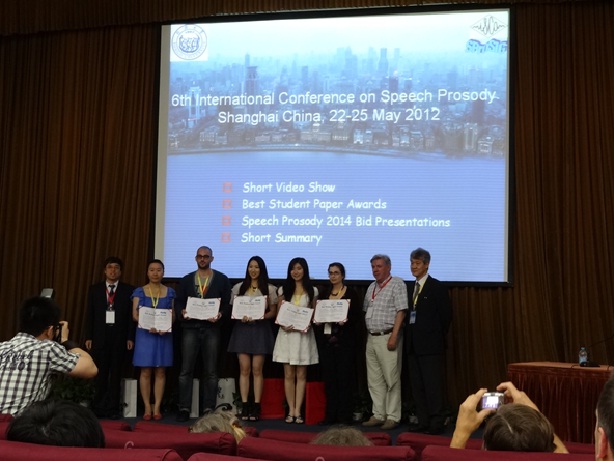 Best student paper award winners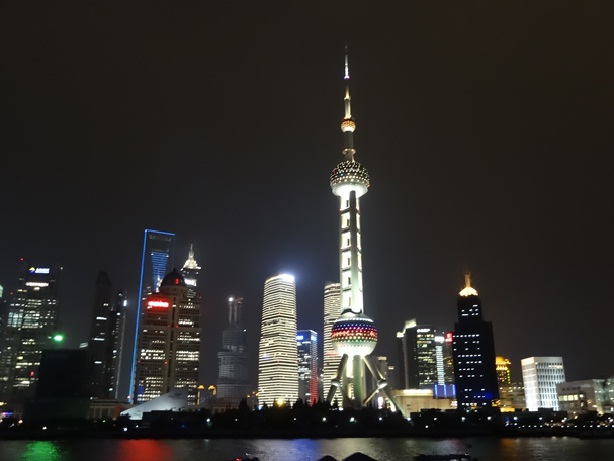 Night view of Shanghai, taken from a ship on the Pujiang river