3rd Mentoring @ Interspeech 2021

Date: Wednesday, September 1st, 2021, 4pm to 6pm CEST (Brno time)
Location: Online
After two successful editions of the mentoring event, at Interspeech 2019 in Graz and Interspeech 2020 in Shanghai (online), the Student Advisory Committee of the International Speech Communication Association (ISCA-SAC) joined forces with ISCA's Diversity Committee to organize the third Mentoring Event at Interspeech 2021 in Brno (online).
In previous editions, PhD students were given the opportunity to engage in a discussion with early-career and senior researchers from academia and industry, in a warm environment. This year, we will extend the Mentoring event to the entire community, i.e., we invite all researchers in any stage of their career. We will have two types of mentoring: round tables and one-on-one mentoring.


Round table discussions:
To cater for potential different needs and wishes, we will have round tables only for PhD students and round tables for a mix of people at different career stages. Each table will have an assigned topic, two mentors and 6-8 participant.
The mentors and topics for discussion are presented below.

Mentors/Discussion Leaders:
Prof. Esther Klabbers
Prof. Helen Meng
Dr. Jesin James
Dr. João Freitas
Prof. Julia Hirschberg
Prof. Khiet Truong
Prof. Mark Hasegawa-Johnson
Prof. Nick Evans
Prof. Preethi Jyothi
Prof. Roger K. Moore
Prof. Sriram Ganapathy
Dr. Tamás Gábor Csapó
Prof. Titouan Parcollet
Topics:
1) Successes, failures and imposter syndrome
2) Time management: work-life balance, combining academic career with side-projects or jobs, starting a family, ...
3) Doing research in academia vs doing research in industry
4) Professional development: planning ahead 
5) Essentials of publishing 
6) Competitive academic environment and publishing pressure


One-on-one mentoring:
Parallel to this event, we will start enabling one-on-one mentoring sessions. If you would feel more comfortable discussing certain topics in a one-on-one session, you can also register for it in the application form, and we will do our best to find a mentor matching your needs. We will then introduce mentor and participant pairs, and let you arrange the best time/place for your conversation.

Mentors: TBA


Application: Anyone participating in Interspeech 2021 is invited to apply via this Application Form. Depending on the registrations, we will assign topics mostly to PhD students, to mid-career researchers, to senior researchers or to any participant in general. We will do our best to have a place for everyone, but in case that is not possible, participants will be selected according to availability of mentors/discussion leaders and topics on a first-come first-serve basis. We will contact you via e-mail, after registration.


Contact: Catarina Botelho (This email address is being protected from spambots. You need JavaScript enabled to view it.).
Hello, goodbye - 2021
[6-April, 2021]
It is a new year and a new season for ISCA's Student Advisory Committee (SAC). As every year we would like to thank our outgoing members, welcome our incoming members and introduce this year's SAC board. 
We say goodbye to Grandee Lee (National University of Singapore), Haala Deeba Abbas (IIIT, India) and Harish-Chandra Dubey (Microsoft, USA). Thank you very much for your work with SAC!
We welcome our new volunteers Lei Xi (LPP, CNRS - Sorbonne Nouvelle, France), Tina Raissi (RWTH Aachen University, Germany), Omnia Ibrahi (Saarland University, Germany) and Sebastião Quintas (IRIT, Université Paul Sabatier, France). We look forward to working with all of you!
We would also like to thank the active volunteers that are staying with SAC from last year, Mariana Julião (INESC-ID & IST, University of Lisbon, Portugal), Nils Westhausen (University of Oldenburg, Germany) and Thomas Rolland (INESC-ID, Portugal).
On the SAC board, Jasper Ooster (University of Oldenburg, Germany) takes over the role of SAC's general coordinator from Iona Gessinger (Saarland University, Germany), who remains an advisor to the board. Catarina Botelho (INESC-ID & IST, University of Lisbon, Portugal) succeeds Jasper Ooester as event coordinator, and Francisco Teixeira (INESC-ID & IST, University of Lisbon, Portugal) succeeds Gabriel Mittag (Technische Universität Berlin, Germany) as media coordinator. Gabriel will also remain as an advisor to the SAC board. Yaru Wu (MoDyCo-CNRS/LPP-CNRS, France) will move from her volunteer alumni position to become a SAC board advisor.
We are glad to announce that this year SAC members have created a podcast, SpeechPitch. Each episode will feature an interview with a different guest, mostly from the speech community, as to allow them to share their work, stories and ideas for the future.
We hope this podcast can help bring students and the overall speech community closer together, which we think is especially important in pandemic times, where we lack presential conferences and other social interactions. This podcast will have a new episode out every 2 or 3 months. You can now listen to the very first episode featuring Iona Gessinger, the previous SAC general coordinator, and winner of best student paper award at last year's Interspeech! We hope you enjoy it!
6th Doctoral Consortium abstracts now online
[19-Nov 2020]
The abstracts from the 6th Doctoral consortium have now been uploaded and are available here.
ISCA-SAC: 7th Students Meet Experts
[28-October 2020]
At the 7th Students Meet Experts event organized online by ISCA-SAC at Interspeech 2020 in Shanghai/China, our panelists Sunayana Sitaram (Microsoft Research), Jon Barker (University of Sheffield), Tara Sainath (Google), and Björn Schuller (University of Augsburg; Imperial College London; audEERING) shared their insights on questions from the student audience.
Thank you for joining the event and supporting ISCA-SAC's activities!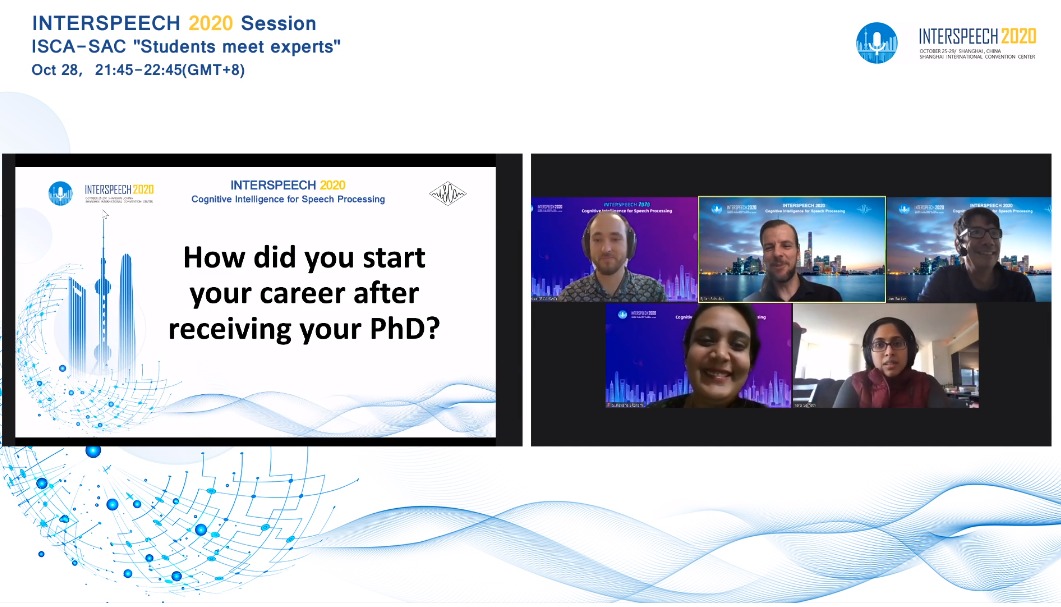 Some take-aways to remember:
Learn to think independently and critically during your PhD.
Keep in touch with your mentors!
Do not compare your thesis with the top doctoral theses in your field and try at all costs to achieve the same level.
A good way to start the career? Organize a challenge at Interspeech!
Your career is not a sprint, it's a marathon.
Sometimes the much-praised freedom in the academic world seems a bit of a fantasy.
In academia it is easier to start collaborations - more restrictions in industry.
Don't forget to invest time in writing journal papers.
In the future, we will have to take ethical aspects such as data protection, fairness and accountability more into account in our research work.
ISCA-SAC: 2nd Mentoring
[26-October 2020]
The 2nd Mentoring event was organized online by ISCA-SAC at Interspeech 2020 in Shanghai/China. PhD students had the opportunity to discuss one of the following topics with a team of two mentors per topic:
Essentials of publishing
PhD topic: focus and passion
Time management for PhD students
Professional development: planning ahead
How to do research in academia vs. industry
We thank all mentors and students for making this event possible!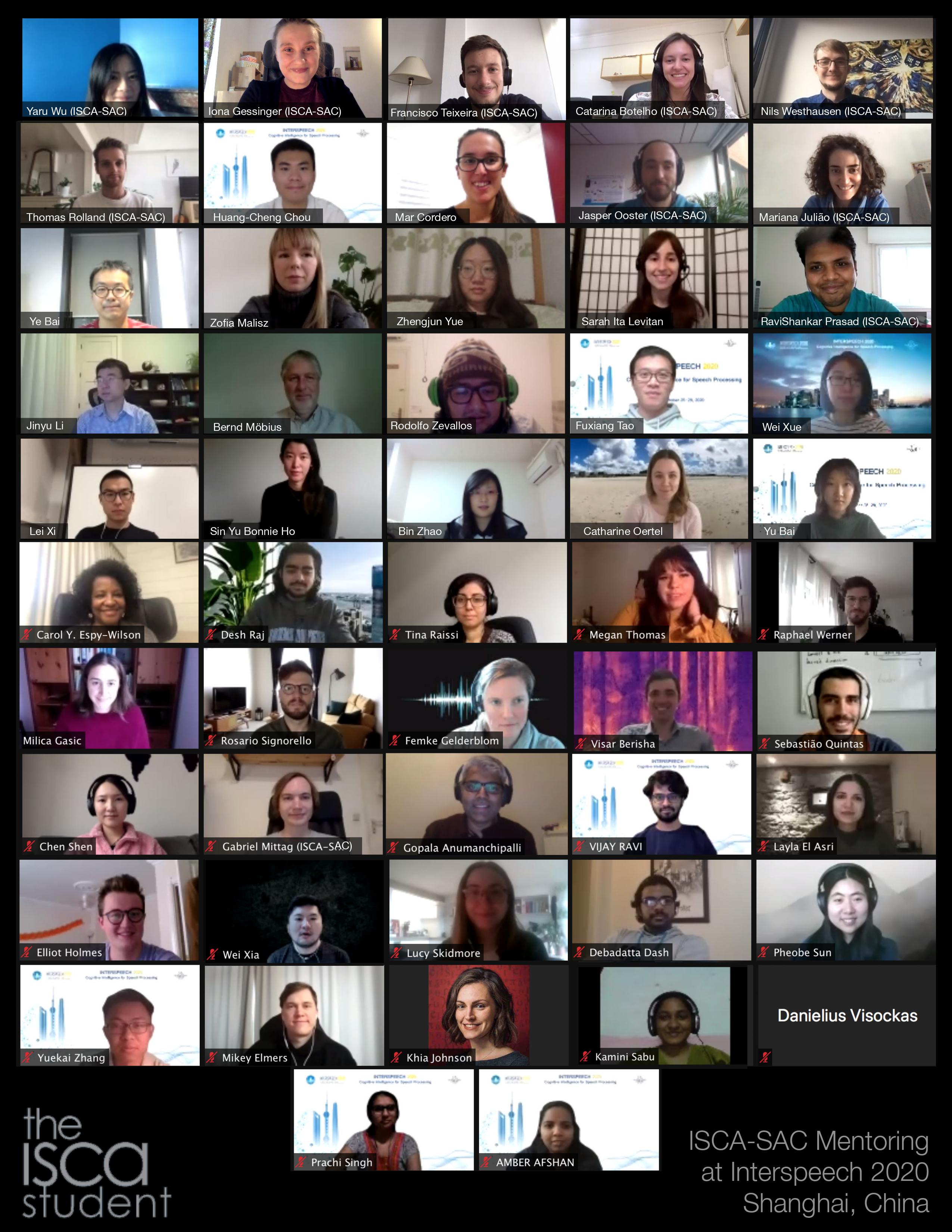 ISCA-SAC: 6th Doctoral Consortium
[24-October 2020]

Today eleven PhD students presented their thesis work to a panel of experts at the 6th Doctoral Consortium organized online by ISCA's Student Advisory Committee. Each presentation was followed by a discussion with the experts aimed at establishing a roadmap toward refining the thesis. We are happy that students and experts from many different time zones have gathered to make this possible!